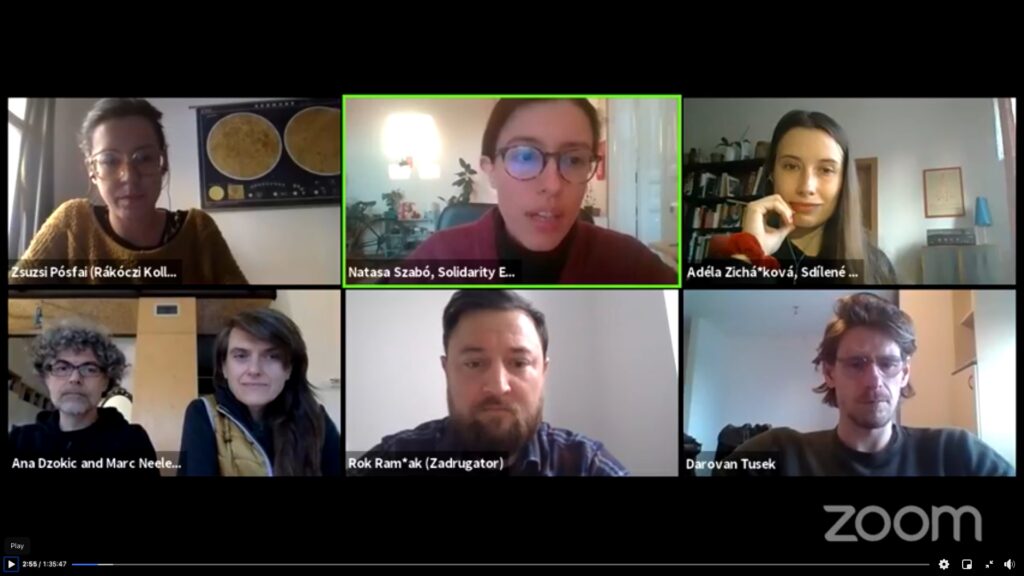 One of the main obstacles facing community-led cooperative housing in Hungary, and more broadly in Central and Southeastern Europe (CSEE), is the difficulty to access affordable housing finance. In search of quick and high returns, investment in the CSEE region flows almost uniquely into market-based models of housing. These models promote home-ownership and are not accessible to many households without significant capital to buy an apartment or equity to acquire a mortgage.
In 2017 pioneering housing cooperatives from CSEE joined forces and founded the MOBA Housing Network (since 2020 European Cooperative Society, SCE). One of the main aims of MOBA is to build an infrastructure for accessing large-scale investment for the cooperative housing sector. Such investments could kick-start community-led housing projects, and lead to more affordable housing.
This webinar held on 10 March 2021, presented the work of the MOBA Housing SCE and the cooperative housing projects of MOBA members from Belgrade, Budapest, Ljubljana, Prague and Zagreb.
It addressed the following questions: What is the state of cooperative housing in each of the member countries? What are the main obstacles to financing cooperative housing in CSEE? What kind of bottom-up financial solutions is MOBA developing to address the situation?
Particpants: Zsuzsi Pósfai (Rákóczi Collective, Budapest), Ana Džokić and Marc Neelen (Ko gradi grad/Pametnija Zgrada, Belgrade), Rok Ramšak (Zadrugator, Ljubljana), Darovan Tušek (Zadruga Otvorena Arhitektura, Zagreb), Adéla Zicháčková (Sdílené domy, Prague). Moderator: Natasa Szabó (Solidarity Economy Center, Budapest).
The webinar has been organised by the Solidarity Economy Center and Fordulat Magazine, Budapest. Funded by the European Cultural Fund's Culture of Solidarity program.
For summary of the webinar in Hungarian see the article Felválthatja a profitelvet a kölcsönös segítség a lakhatásban? Lakásszövetkezetek Kelet-Európában.